Pastoreo del dinoflagelado Noctiluca scintillans sobre el dinoflagelado productor de toxinas paralizantes Gymnodinium catenatum: ¿Elimina el pastoreo células durante un florecimiento?
Grazing of the dinoflagellate Noctiluca scintillans on the paralytic toxin-producing dinoflagellate Gymnodinium catenatum: Does grazing eliminate cells during a bloom?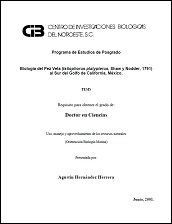 Autor
JOSE JESUS BUSTILLOS GUZMAN
CHRISTINE JOHANNA BAND SCHMIDT
DAVID JAVIER LOPEZ CORTES
FRANCISCO EDUARDO HERNANDEZ SANDOVAL
ERICK JULIAN NUÑEZ VAZQUEZ
Ismael Gárate-Lizárraga
Ítems relacionados
Mostrando ítems relacionados por Título, autor o materia.
MARIA CONCEPCION LORA VILCHIS; MARTE VIRGEN FELIX; FCO. OMAR LOPEZ_FUERTE; BERTHA OLIVIA ARREDONDO VEGA

MARIANA BOBADILLA JIMENEZ; MAGDALENA LAGUNAS VAZQUES; SAUL ALVAREZ BORREGO; ALFREDO ORTEGA RUBIO

HECTOR HUGO VARGAS GONZALEZ; JOSE ALFREDO ARREOLA LIZARRAGA; JAQUELINE GARCIA HERNANDEZ; RENATO ARTURO MENDOZA SALGADO; TANIA ZENTENO SAVIN; LIA CELINA MENDEZ RODRIGUEZ