Estudio de la biología reproductiva del robalo paleta Centropomus medius (Günther 1864) para su aplicación en acuacultura.
| | | |
| --- | --- | --- |
| dc.contributor.advisor | Gracia López, Vicente | |
| dc.contributor.author | Maldonado García, Minerva Concepción | |
| dc.date.issued | 2004 | es_MX |
| dc.identifier.uri | http://dspace.cibnor.mx:8080/handle/123456789/564 | |
| dc.description.abstract | Los peces de la Familia Centropomidae se encuentran en las zonas costeras y estuáricas y poseen una amplia distribución tropical y subtropical. Tienen gran importancia por su pesquería comercial y deportiva. Las características biológicas que poseen, su precio y la gran demanda existente las hace de interés para la acuicultura. Las especies de la Familia Centropomidae que se cultivan actualmente son la perca del Nilo, Lates niloticus, cultivada en Nigeria; el barramundi, L. calcarifer, cultivada en Taiwán, Tailandia, Malasia, Australia e Indonesia, y el robalo común, Centropomus undecimalis, cultivado en la República Dominicana. El robalo paleta, C. medius es una de las especies del género Centropomus que se distribuye en las costas del océano Pacífico, principalmente en Baja California Sur hasta el sur de Colombia y representa una especie con potencial para la acuacultura. Por todo lo expuesto, se realizó un estudio sobre la biología reproductiva y la composición bioquímica anual de los reproductores de C. medius para ampliar el conocimiento de esta especie y crear la base para su reproducción en cautiverio. Desde abril del 2001 a noviembre del 2002, 301 hembras y 193 machos fueron capturados. La proporción de sexos fue de 1:1.6 (machos:hembras). Se observaron cinco estadios de desarrollo en las hembras, cada uno con características y tamaños celulares diferentes: Estadío I: previtelogénicos (25-55 µm). Estadío II: Alveolo cortical (56-250 µm). Estadío III: Vitelogénicos (251-340 µm). Estadío IV: Maduración (341-645 µm). Estadío V. Atrésico (21-100 µm). En los machos, se observaron cinco estadios reproductivos: Estadío I, Quiescencia; Estadío II, Maduración temprana; Estadío III, Maduración intermedia; Estadío IV, Maduración completa y Estadío V, Regresión. El índice gonadosomático (IGS) y el índice hepatosomático (IHS), y los resultados obtenidos por las técnicas histológicas, sugieren que el periodo de desove se extiende de septiembre a noviembre con un pico reproductivo activo en septiembre (IGS= 0.98 % y IHS= 0.70 %). El periodo de pre-gametogenesis se extiende de enero a junio y está relacionado con el incremento del fotoperiodo; el inicio de la vitelogénesis se produce cuando el fotoperiodo es de 14 horas de luz y 10 de oscuridad (solsticio de verano) y cuando la temperatura del agua se sitúa por encima de los 22 °C. Durante el periodo de pos-desove, en diciembre, el 90 % de los ovocitos observados fueron previtelogénicos y el 10 % atrésicos. El análisis de los resultados demostró que el desarrollo ovárico es sincrónico por grupo y se determinó una estrategia reproductiva hermafrodita protándrica. Los machos presentaron madurez un mes antes que las hembras y mantuvieron la madurez un mes después. En cuanto a la fisiología reproductiva, los resultados nos indican que en C. medius, durante el periodo de recuperación (PRp), la concentración de proteína es elevada en el músculo y en la gónada, al contrario que en el periodo de reproducción (PR). Lo cual indicó que la proteína es utilizada durante el periodo reproductivo. La concentración de glucógeno aumentó en el músculo durante el PRp y disminuyó durante el PR. Lo cual indica que el glucógeno fue movilizado para el crecimiento somático y es utilizado durante el PR. La concentración de lípidos y triglicéridos, aumentó en la gónada y en el hígado durante el PRp y el PR para disminuir en el momento del desove lo cual indicó que los lípidos son las moléculas empleadas para la formación de la gónada. En general, la grasa perivisceral, el hígado y el músculo, juegan un papel principal de almacenamiento de reservas y en su suministro a la gónada del robalo paleta C. medius. El patrón de variación de la composición corporal de C. medius, no difiere en relación con la de otros teleósteos estudiados y está influenciada por la temperatura y el ciclo reproductor. La variación de la concentración de proteínas, lípidos, triglicéridos, glucógeno y grasa perivisceral, presentaron una variación en la composición corporal y estuvieron relacionados con el desove. En esta tesis se incluye un apartado de aplicación a la acuacultura. | es_MX |
| dc.language.iso | Español | es_MX |
| dc.publisher | Centro de Investigaciones Biológicas del Noroeste, S.C. | es_MX |
| dc.title | Estudio de la biología reproductiva del robalo paleta Centropomus medius (Günther 1864) para su aplicación en acuacultura. | es_MX |
| dc.type | Tesis | es_MX |
| dc.documento.id | maldonado_m | es_MX |
| dc.documento.inst | CIBNOR | es_MX |
| dc.dirtesis.grado | Doctorado en Ciencias en el Uso, Manejo y Preservación de los Recursos Naturales | es_MX |
| dc.dirtesis.disciplina | Biología Marina | es_MX |
| dc.dirtesis.universidad | Centro de Investigaciones Biológicas del Noroeste, S.C. | es_MX |
| dc.dirtesis.facultad | Posgrado en Recursos Naturales | es_MX |
| dc.documento.fecha | 2004-12-14 | |
| dc.description.abstracten | Fish belonging to Centropomidae family have a widespread tropical and subtropical distribution. They are coastal and estuarine fish, with high commercial and leisure value. Snooks have an aquaculture potential; some species are already being farmed in countries like Nigeria (Lates niloticus), Taiwan, Malaysia, Dominican Republic (Centropomus undecimalis), Australia and Indonesia (Lates calcarifer). The Blackfin snook, C. medius is distributed along the Pacific coast throughout Baja California Peninsula. In this study the reproductive biology and biochemical composition of C. medius was assessed in order to compliment the information for its aquaculture production. 301 females and 193 males were captured from April 2001 to November 2002, sex ratio was 1:1.6 (male:female). Gonadosomatic (GSI) and hepatosomatic (HSI) indexes with the histological analysis, suggested that the spawning period for C. medius extended from September to November with peak on the spawning activity in September. The period of pre-gametogenesis was observed from January to June with a close relation with temperature and photoperiod increase. During the post-spawning period, 90% of the oocytes were previtellogenic and 10% were atretic. Oocytes were classified into five stages of development: Stage I, Previtellogenic (25-55 µm); Stage II, Cortical alveoli (56-250 µm); Stage III, Vitellogenic (251-340 µm); Stage IV, Maturation (341-645 µm) and Stage V, Atretic (21-100 µm). Males were classified into five reproductive stages: Stage I, Regressed; Stage II, Early maturation; Stage III, Mid maturation; Stage IV, Full maturation and Stage V, Regression. Ovarian development was determined as group synchronous with a protandric hermaphrodite reproductive strategy. Mature males could be observed one-month prior and one month after mature females. Results demonstrated that in the recovery period (PRp) the muscle and gonad of C. medius have higher concentration of protein, while this concentration decreases during the reproductive period (PR). This indicates that protein is being used during this period. The same was observed for glycogen during the PRp and PR periods, indicating that the glycogen is used for somatic growth. The concentration of lipids and triglycerides was elevated in gonads and liver during PRp and lower during spawning. The variability of these reserves is important for C. medius gonad condition and is similar to that of other teleosteans, which are also influenced by temperature and reproductive cycle. This work includes an appendix about the Blackfin snook, C. medius aquaculture applicability. | es_MX |
| dc.documento.subject | Biología reproductiva; movilización de reservas; robalo | es_MX |

Files in this item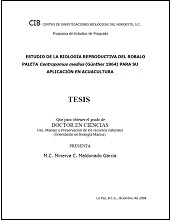 Name:

maldonado_m.pdf

Size:

1.264Mb

Format:

PDF

Description:

Tesis de Minerva Concepción ...
This item appears in the following Collection(s)
Tesis Digitales CIBNOR
Esta colección contiene texto completo de las tesis de Maestría y Doctorado del Programa de Posgrado del CIBNOR.