Abundancia y adaptación al hábitat de la liebre negra (Lepus insularis) en el Complejo Insular Espíritu Santo, Golfo de California, México.
| | | |
| --- | --- | --- |
| dc.contributor.advisor | Blázquez Moreno, María del Carmen | |
| dc.contributor.author | Moran Gutiérrez, María José | |
| dc.date.issued | 2023 | |
| dc.identifier.uri | http://dspace.cibnor.mx:8080/handle/123456789/3156 | |
| dc.description.abstract | La liebre negra (Lepus insularis) es un lagomorfo endémico al Complejo Insular Espíritu Santo, en el Área de Protección de Flora y Fauna "Islas del Golfo de California". Se encuentra bajo protección especial por la legislación mexicana (NOM-059-SEMARNAT-2010) y como "vulnerable" por la Unión Internacional para la Conservación de la Naturaleza. La información ecológica sobre la liebre negra es escasa y se desconoce su estatus población actual. Además, en 2021 se detectó la presencia del virus causante de la Enfermedad Hemorrágica Viral de los Conejos Tipo 2 en la población. En respuesta a este potencial escenario de vulnerabilidad, decidimos crear una línea base de conocimiento sobre la ecología de la liebre negra, a través del análisis de su abundancia espaciotemporal y de uso del hábitat. La abundancia relativa de la liebre negra se estimó a partir del conteo de grupos fecales frescos y rascaderos mensualmente durante un año en 8 senderos de 500 m × 2 m, y se colocaron 30 cámaras-trampa en 6 de los transectos para monitorear el horario de actividad de la liebre. Asimismo, se establecieron 20 senderos de 500 m × 2 m divididos en 10 tramos de 50 m para evaluar la influencia de las variables del hábitat sobre la abundancia de la liebre negra. En cada tramo se delimitó una parcela circular de 314.2 m2 en la que se midieron 7 variables ambientales y topográficas, y se utilizaron estos factores para modelar la abundancia. Finalmente, se construyó un modelo de idoneidad de hábitat para L. insularis. En 2021 los valores más altos de abundancia se registraron durante los meses de abril y mayo, y se encontró que es dependiente de la estacionalidad climática y el tipo de microhábitat. Además, se comprobó que L. insularis es un animal de hábitos crepusculares y nocturnos, que prefiere las zonas compuestas por suelos arenosos y/o pedregosos con abundante cobertura arbórea. Por el contrario, la liebre negra evita los terrenos inclinados y con presencia de competidores. | es |
| dc.format | pdf | es |
| dc.language.iso | spa | es |
| dc.publisher | Centro de Investigaciones Biológicas del Noroeste, S.C. | es |
| dc.rights | Acceso abierto | es |
| dc.subject | excretas, idoneidad de hábitat, lepórido, mamíferos, patrón de actividad | es |
| dc.subject | activity patterns, feces, leporid, mammals, suitability model | es |
| dc.title | Abundancia y adaptación al hábitat de la liebre negra (Lepus insularis) en el Complejo Insular Espíritu Santo, Golfo de California, México. | es |
| dc.type | masterThesis | es |
| dc.dirtesis.grado | Maestría en Ciencias en el Uso, Manejo y Preservación de los Recursos Naturales | es |
| dc.dirtesis.disciplina | Ecología de Zonas Áridas | es |
| dc.dirtesis.universidad | Centro de Investigaciones Biológicas del Noroeste, S.C. | es |
| dc.dirtesis.facultad | Posgrado en Recursos Naturales | es |
| dc.description.abstracten | The black-jackrabbit (Lepus insularis) is an endemic lagomorph only present in the Espíritu Santo Archipelago, Gulf of California, protected by the Mexican law, and categorized as vulnerable by the IUCN. Ecological knowledge about this species is scarce and even its population status is poorly known. Additionally, in 2021 the Rabbit Hemorrhagic Disease Virus type II was detected in some dead individuals. In response to this potential vulnerability scenario, we generated a baseline study of its current habitat use and spatial-temporal abundance. We delimitated a grid composed by cells of 2.5 km × 2.5 km along the archipelago and then we selected 20 cells by random sampling, where we established a total of twenty 500-m-long transects divided in ten 50-m-long sampling points. We considered the number of fresh fecal pellets as an indicator of black-jackrabbit abundance. To reach our first objective, monthly counted fresh fecal pellets in eight 500 m-long transects for a year, and estimated relative abundance monthly, per season and per habitat. To determinate the habitat use, we installed 30 camera traps throughout different areas of xeric scrubland to register the activity pattern. Then, we measured 8 topographical and ecological variables (fecal abundance, bare ground, coverage by vegetation height, altitude, slope, soil type, competitors' presence, food availability) in 200 plots of 314.2 m2 allocated in 20 transects and analyzed the relationship between species abundance and habitat variables with a GLM. Finally, we constructed an habitat suitability model using a minimum volume ellipsoid (MVE). Our results suggest that in 2021 the black-jackrabbit was more abundant during the dry season, especially in the months of April and May and its abundance is related to the seasonality and habitat type. We also found the daily activity pattern of L. insularis peaks during the twilight, and the preferred areas are zones with sandy or rocky soils with abundant tree cover. | es |

Files in this item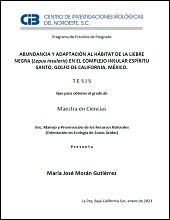 Name:

moran_m TESIS.pdf

Size:

5.832Mb

Format:

PDF

Description:

Tesis de maestría de María José ...
This item appears in the following Collection(s)